The Roots of Faith Courses Launched in Brazil
In his last couple of years as the ABWE Executive Director for South America & the Caribbean, David Southwell wanted to leave a lasting impact on these mission fields. He believed that The Roots of Faith, a two-course chronological Bible survey, could do just that. The "Roots" courses trace the unfolding of God's plan of redemption from Genesis through Revelation. They progressively reveal major theological concepts, especially those theological truths that are closely related to mankind's spiritual needs and God's plan of salvation. David's last major project as a missionary administrator was to raise the funds needed to translate and launch The Roots of Faith courses in the Portuguese and Spanish languages.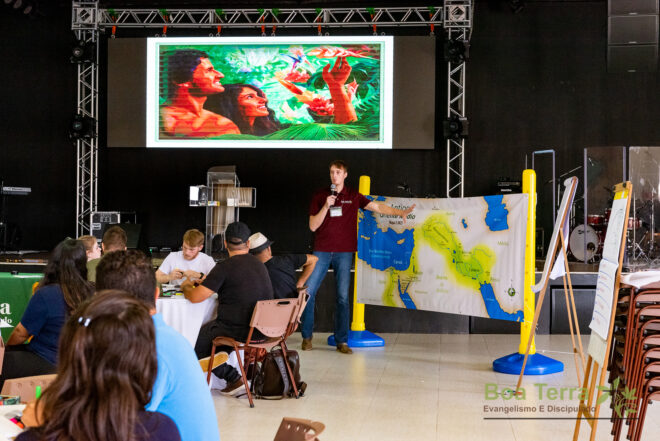 In April of 2018, his vision became a reality as The Roots of Faith – Old Testament was introduced in Fortaleza, Brazil. Thirty-four students, which included missionaries, national pastors, and seminary leaders from all over Brazil, participated. ABWE's sister mission in Brazil, MMM (Maranatha Multicultural Ministries) sent several of their missionaries, and two pastors from Portugal also came in order to begin providing the training in that country later in the year. A group of ABWE missionaries from Brazil and Gil Thomas, the International Director of Good Soil, provided the engaging and interactive instruction. The reaction was overwhelmingly positive.

Pastor Tércio, who leads the largest Baptist church in the southernmost state of Brazil, Rio Grande do Sul, came with two members of his staff. Part way through the training, he threw down his pen in apparent disgust. When asked if anything was wrong, he replied, "I believe I have learned more about the Old Testament in a few days here then I did during my entire seminary training." Not wanting to wait a whole year for the New Testament course that was being translated, Pastor Tércio and his wife traveled to the U.S. in June 2018 to take the course at the ABWE headquarters near Harrisburg, PA. The content and method of teaching received high marks from all the other participants as well.
With the successful launch, plans were made for the initial The Roots of Faith - New Testament course to be offered in April of 2019 in Recife, Brazil. Until that time, there were several additional major training events planned for the OT course. In September, Gil Thomas and Randy Southwell traveled to Portugal and taught the inaugural course there along with the pastors that had traveled to Brazil for the training. Those pastors in turn have already taught the course in another area of the country and are using it in their churches. In February 2019, the Brazil Good Soil team along with Jenuan, the director of MMM and SIBIMA, the theological seminary in Fortaleza, taught the OT course to 46 seminary students. More than 15 others who had not registered for the course had to be put on a waiting list because they couldn't cram any more into the space they had.
In March 2019, the Brazil Good Soil team traveled down to Porto Alegre (southern Brazil) to teach the course at Pastor Tércio's church, Mont'serrat Baptist. All the pastors, full-time staff, church planting missionaries that the church supports around the state, and key lay leaders along with their spouses blocked out a whole week to focus on the course. Six others from a sister church also joined in for a total of 42. They loved the teaching. Dan Cook, leader of the Brazil Good Soil team, said that it was the most dynamic group he has ever taught. I asked associate pastor, Andre, what The Roots of Faith course meant to them. He said that their church has a lot of fairly new believers and for quite a while they have been searching for a Bible survey approach that teaches solid doctrine and generates more passion for God. He shared, "The Roots of Faith provides everything we were looking for. We view it as a gift from God for our church."
The first week of April again saw pastors, missionaries, and other leaders from all over Brazil come together in Recife for The Roots of Faith – New Testament. Fittingly, David Southwell was able to travel to Brazil and be a part of the team teaching it in Portuguese for the first time. Many of the Brazilian missionaries who participated the year before were not able to attend this time as some were on their fields halfway around the world. Another missionary who ministers in Venezuela could not leave the country because he would not then be able to return. But when they do return the training and resources will be there for them.
The Brazil Good Soil team has a plan to have trained teaching teams in four key areas of Brazil. They are well on their way. The Roots of Faith has already had a terrific impact in Brazil and we look forward to God continuing to use it in a mighty way.

The Roots of Faith is offered every year in June at the ABWE headquarters, in New Cumberland, PA. You can fill your "teaching toolbox" with all the creative teaching-learning methods needed to facilitate these courses with others, as well a Bible commentary for each course. Participants in The Roots of Faith courses become certified to teach the courses in their own ministries.