Covid-19: Where is God? Is Evangelism on Hold? How We Can Help?
Where is God During the Covid-19 Crisis?
God is right where He always is: "God reigns over the nations; God sits on His holy throne."1 He has not left; He has not forgotten us. We can still say with the prophet who wrote 2700 years ago, "The Lord is good...a stronghold in the day of trouble; He knows those who take refuge in Him."2 In fact, "He who dwells in the shelter of the Most High will abide in the shadow of the Almighty. He will say to the Lord, 'My refuge and my fortress, my God, in whom I trust."3
We are thankful for the many great reminders, verses, blogs, and stories that are so encouraging and can be found on many Christian websites. As Christians, we need to trust God and remember that none of this has taken Him by surprise. God's plans are still in place, as are the tasks He has given us. That is what we would like to focus on in this article – in particular, the task of evangelism. How can we fulfill this task effectively and faithfully in such a time as this?
Is Evangelism on Hold During the Covid-19 Crisis?
We are witnessing a peculiar time in history that most of us have never seen. Over 90% of the population of the US is currently under orders to stay at home, and that number is only going to increase. Many places in the world face a similar situation. Does that mean that we put evangelism on hold until these orders are lifted, and we can engage face-to-face with people again? Not by any means. There is no better time to reach your community and beyond then now.
More than ever, people are looking for a message of hope and of purpose for life. Even before the crisis in the digital age in which we live, millions turned to the internet for companionship, understanding, information, and more. Even more so now. We have the unique ability to see and talk to people who are not actually in our physical presence, be they across the street or around the world. This great need that many are facing and the technological advances so many have access to, gives us an opportunity to share the hope that is truly only found in Jesus Christ. God can use us to utilize our time online to help others learn about God's great plan for redemption and to a consider a faith response to the truths of the gospel.
For fifteen years, Good Soil Ministries has been training and resourcing missionaries, pastors, and everyday Christians around the world in worldview relevant evangelism and discipleship that helps people understand, embrace, and retain the gospel. We now want to help you do the same thing effectively even while stuck at home.
How Good Soil Can Help During the Covid-19 Crisis?
Good Soil resources have been used by those we have trained to lead thousands here and around the world to a genuine faith response to the gospel. While you may not have had the training, you can still get access to some of the basic theological principles behind Good Soil and access to several, proven, free resources that will make sharing the gospel simple, yet at the same time clearly understandable.
The place to start is our "about" webpage: www.goodsoil.com/about. Here you will find a scale and some graphics that present some key principles that have been proven invaluable to those seeking to share the gospel in an effective way. On this page are also two powerful tools for sharing the gospel.
The Chronological Bridge to Life
The Chronological Bridge to Life presents the eight essential truths that emerge out of the Bible's story of Hope – God, Man, Sin, Death, Christ, Cross, Faith, and Life. The ChronoBridge is best used with those who have a basic understanding of the Bible's metanarrative (big story), but you can introduce as much of the story as you feel is needed as you go through the concepts. There is a real-life, ten-minute video that you can watch of someone taking a person they were working with through the presentation of the gospel using the bridge as well.
While on the web page with someone, you can have people click on each truth as you go through it with them. This highlights the word and brings up the key verse below it. Platforms such as Microsoft Teams and Zoom allow you to "share your screen" with someone at the other end of the line. Another option would be to have your friend download it for free onto a one-page document. Either way, The Chronological Bridge to Life helps you, the gospel presenter, to clarify and personalize the gospel for those you are working with.
The Story of Hope - Look Inside Pages Redesigned!
Many of us have been thrilled to see God use His Word as we walk individuals through His story guided by The Story of Hope. The Story of Hope presents the Bible's big redemptive story using 40 Bible events (20 Old Testament and 20 New Testament). It is time-flexible and designed for both one-on-one and small group evangelism. It was designed to be used with anyone, but is indispensable for those who know little or nothing about the Bible and the Christian faith. Although you can purchase it online and have it sent to someone, if that is an issue, we recently made a change to our website that could offer more help at no cost.You are familiar with the "Look Inside" feature of many online book sales platforms, right? You simply click on the cover of the book or on the words "Look Inside" and your computer or phone takes you inside the book to preview the introduction and a few other pages. It is a wonderful feature!
To make using The Story of Hope even easier while we are shut up in our houses, we have done the following to our "Look Inside" pages:
Enlarged the pages for easier reading
Enabled the feature to show the entire book, page by page
Created the pages in a higher resolution

So, go ahead! If you can't get a book to someone, go to www.goodsoil.com/about or even www.GoodSoil.com. Have your friend, neighbor, or family member go to the site as well (or share your screen through Zoom). Now you can begin helping them study God's Word and discover how His story can influence theirs!
At the back of The Story of Hope you will also find the Chronological Bridge to Life with much more detail and information about each gospel truth. There is also a free leader's guide with all the answers to the questions and helpful insights for teaching each lesson. This can be downloaded for free at www.goodsoil.com/resources/free-downloads/ and give you confidence with those you are engaging.
Yes, We Have a Free App You Can Use!
Available on both the App Store and Google Play, The Story of Hope Condensed App gives you access to a summarized version of the Bible's big story. There are twenty beautifully visualized Bible events (10 OT and 10 NT) along with the event summary for each one. It also includes a brief version of the Chronological Bridge to Life.
Again, the app is best to use with someone with a greater understanding of basic Bible truths but can also be used to serve as a hook and create interest in a deeper study of God's Word using The Story of Hope.
Staying Connected Through Bible Study While Quarantined!
"Thanks so much for figuring this out and making it happen," Margie concluded, "This was soencouraging!" I tapped the circle on the face of my phone and that was it! I was encouraged, too, and eager to continue our Neighborhood Bible Study the next Tuesday! I am not a computer whiz or technology genius, but we had just finished our first study while under self-quarantine.
If I can do it, I'm pretty sure you can do it, too. Here's what I did:
1. Delivered materials to my study members. Our group started by going through The Story of Hope 2 years ago. If you are starting a Neighborhood Bible Study (even virtually), I would encourage you to start with The Story of Hope. This chronological overview of the Bible in 40 events does a great job of helping participants clearly understand the story of God's Word so they can genuinely embrace the truths they learn. In this postmodern world it is also a great tool to help deconstruct worldviews naturally as you study God's Word. Good Soil is still shipping so you can have a workbook shipped to each member in your study group.

If you have already done The Story of Hope (our case) or are already doing another study, simply prepare the questions ahead of time and send them to your study members through email or even text.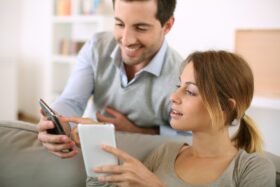 2. Chose my platform. There are several cloud-based programs that enable you to see and talk to your friends all at the same time. Microsoft Teams, Zoom, Facebook Messenger are just a few. And each of the above are free! I found Messenger to be the easiest to work with and most accessible to the average person. While it is true that younger people are switching over to Instagram and other platforms, who doesn't have a Facebook account?
So, I made sure every member of our Bible study had Facebook Messenger installed and had their notifications switched on. I walked them through it this way:
Go to "Settings" on your phone.
When in Settings, you will find "Notifications." Tap that bar.
Scroll down until you find "Messenger," and tap it.
There you will need to have the "Allow Notifications" button turned on as well as "Sounds."
That's it! Well, you will want to make sure you are "friends" (through Facebook) with each participant as well.
3. At our normal Bible study time I started calling the members. On Messenger, once you "call" someone for a video chat, a plus sign (+) with a silhouette shows up on your screen. When your first person "has arrived," just greet them and say, "Hold on, I'm calling _______." After everyone is on the call, have your normal greeting time and then dig into God's Word!
On other platforms (such as Zoom and Teams) there are ways to set up meetings and invite people. All are fairly intuitive, but I started with Messenger and continue to use it for Bible studies.
Don't let the COVID-19 keep you from having your Bible studies and don't let technology scare you. You can continue to reach out and encourage people with God's Word even during these difficult times.
---

1. Psalm 47:8
2. Nahum 1:7
3. Psalm 91:1-2