Tremendous Training Time in Thailand
"For the first time in my life, I feel a real hope for my country." Guitar, our translator for the Good Soil resources into Thai, expressed this sentiment during our training in Thailand this August, that accompanied the launch of The Story of Hope, The Way to Joy, and the Good Soil Evangelism & Discipleship training manual in the Thai language. She and her husband were part of the group of almost 50, comprised of missionaries from several different countries, national leaders and pastors, and even a couple of ministry leaders from neighboring countries.

Guitar shared that she had always felt a bit of hopelessness when it came to reaching the people of her country with the gospel, but seeing the excitement and passion of those participating in the training and the joy of so many to have these new resources in their peoples' heart language, filled her with expectation. "I believe that God is going to use this in a great way here in Thailand." There have already been two more trainings in other parts of the country and more are being planned. One of the missionaries who participated texted us to let us know he began studying The Story of Hope with a Thai friend the very next day.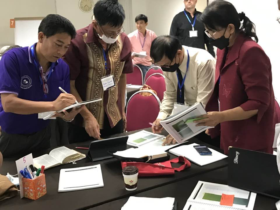 Ariel Abadiano, our Good Soil leader in the Philippines, was the driving force behind the translation efforts into Thai and during out time there met with a group of those who are looking to champion Good Soil in their respective areas of the country.
Danil Tereshchenkov and his wife Anna were serving as short-term Good Soil missionaries in Thailand. They returned at the end of the year to raise support to go back full-time and have already raised all their needed funds and are planning on returning the beginning of April.
Please pray for the country of Thailand and those seeking to share the gospel effectively there. Pray that Guitar would see her words and hopes realized and many from her country understand and embrace God's redemptive plan for them through Jesus Christ.