New Strategic Partnership
Good Soil Training at BJU Seminary
Several months ago, I received a phone call from the dean of BJU Seminary, Neal Cushman, expressing his desire to partner with Good Soil. Surprised and intrigued, I talked with him and agreed to meet that summer at the G.A.R.B.C. Conference which we both would be attending.
There he shared with me that in 2021, BJU Seminary had developed a new strategy, the 500 x 5 x 5 initiative, designed to help address a nationwide pastor shortage by putting 500 new pastors on the path to the pulpit in the next five years—and for every five years after that.[1] The Seminary had become more and more concerned with the need to train pastors as more and more churches in the United States are without pastors and the median age of pastors is rising.[2]


To carry out this initiative, the Seminary determined that they needed to develop a "5 P Plan"—working to develop their Program, Plant (facilities), People, and Profile. "But Gil," you say, "that's only 4 P's." You are right! The 5th P was Partner—the leadership of the seminary felt they needed to partner with certain "leading theologically conservative ministries enabling unique, exclusive course offerings and off-campus training opportunities." This led to the phone call outlining their desire to partner with Good Soil Evangelism & Discipleship. They believed it was crucial to give these potential pastors significant training in evangelism and felt that we could provide it, enabling these trained pastors to be able to go out to churches around the country and around the world to make disciples.
The next several months were a whirlwind of activity and change:
I was invited to teach three hours at the annual Seminary retreat in September of 2022.
Staff and professors got excited and on board with this new concept.
Over several weeks, the Dean of the Seminary and I strategized and worked through some ideas as to how this would all take place.
We determined that one of the best things we could do to move this forward would be to have someone in South Carolina to teach in the seminary and develop Good Soil in that part of the country.
Denise and I moved to Fountain Inn, SC, on December 31, 2022.
I began meeting with pastors and leaders in the area, talking with them about how Good Soil could help them in their evangelism and discipleship efforts.
We conducted two local seminars in the spring and summer of 2023.
We signed an agreement of partnership on August 22, 2023.
I began teaching the class STH 777 Theology and Practice of Evangelism in the Seminary on August 24th, 2023.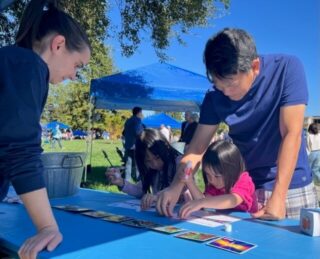 Now, after seven weeks of the class, I am pleased that the students in the class are truly learning Good Soil principles and putting them into practice. The university just held their annual U.Day where they host an educational street fair and encourage families from the community to, "Bring your whole family where kids — and kids at heart — can try science experiments, make music, hear stories, create art, get their faces painted and more at our educational street fair." Good Soil hosted a booth, assisted by some of the students from the class, where kids put the 8 Essential Truths from the ChronoBridge in order.
[1] For more information on this initiative, you can go to Episode 26: 500x5x5 – BJU Seminary, and listen to Eric Newton's podcast, Theologically Speaking, Episode 26 on April 27th, 2021.
[2] The above mentioned podcast cast this statistic: There are more pastors over the age of 65 than there are under the age of 40.