A Thai Pastor's Wife Trusts Jesus Through The Story of Hope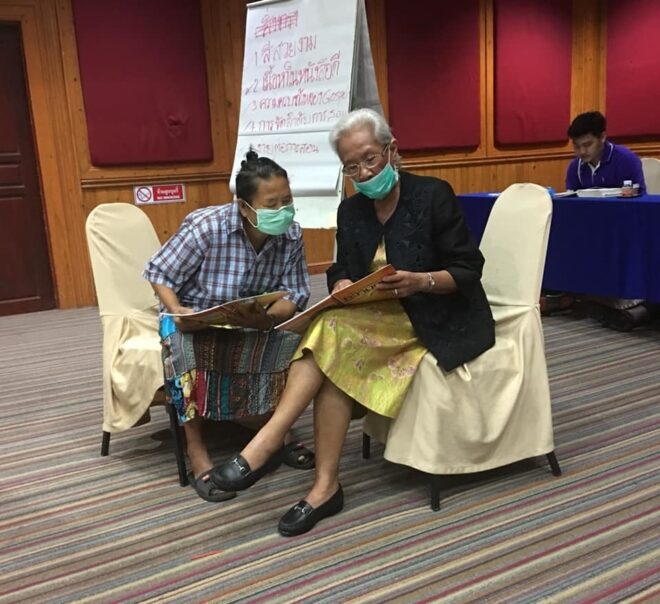 At a yearly meeting of Rom Fellowship of Baptist Church workers at a retreat site outside of Bangkok, Thailand, a Good Soil seminar was taught last week. Christian workers from five countries (Philippines, Canada, USA, Myanmar, Thailand) and three Thai tribal groups (Hanong, Akha, Karen) participated in the training.

During one of the learning activities, participants are to read through the summary statements of all 40 Bible events (20 Old Testament and 20 New Testament) in The Story of Hope. These summary statements trace God's story of redemption from beginning to end; they tell God's Big Story from Creation in Genesis to future times as recorded in the book of Revelation. The participants pair up and spread around the room so they can read undistracted by others. Lourdes Holmes, a Filipina missionary who has ministered in Thailand for over 50 years, paired up with Lee from the Hmong people tribe in northern Thailand. She is the mother of 11 children, a pastor's wife, and an oral learner (she doesn't read or write). Her husband is the pastor of four Hmong families in their village group of about 30 homes.

As Lourdes was reading the summary statements to Lee, she began to realize that Lee was not understanding some of the events and their meanings. She asked Lee if she was a believer in Jesus. Lee responded, "Yes, I have been baptized by water—twice." This answer raised red flags for Lourdes, so she slowed down and began to share the basic essential gospel concepts which Lee (or anyone!) would need to understand to begin a personal relationship with God. Lourdes began by explaining who God is, how mankind came into existence, and rebelled against God's plan which brought death. She explained that Lee had also rebelled and was under that same curse of death. But she continued by revealing God's plan to bring us back to Him: His Son Jesus came to die on the cross and rose again, taking our rebellious acts out of the way. If Lee would simply place her faith in Jesus, she could have life with God forever.
That day Lee stopped trusting in things she had done (such as baptism) and placed her faith in Jesus alone; on January 16, 2019 she became a new creation in Jesus. Pray for Lee as she continues to learn and grow, and works past her fears of the tribal rituals and spirits.