"Miracle Ryan" Shares The Story of Hope With Other Hospitalized Soldiers
A Marine's mom recounts the story of her son's traumatic (almost deadly) accident and how God restored him to the point that he led other young injured service men in a study through The Story of Hope.
---
We woke up early in the morning in October to messages pouring in from the USA to our home in Poland, where we serve as missionaries. The messages:
Your son, Ryan has been in a very serious motorcycle accident. He's in a hospital in Dayton, OH. Brain bleeding. Pelvic fracture. Collapsed lungs - on a breathing tube. A number to call the trauma service. A number to call the Marine Liaison. The military is requesting your immediate return to be at bed side.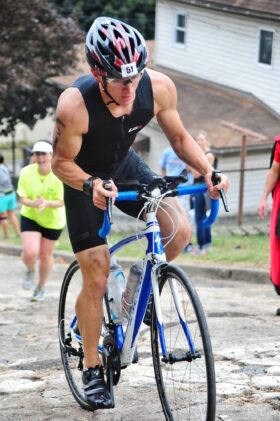 Oh, dear God. . . please help Ryan!
Ryan Schick, age twenty, is our fourth out of five children - the youngest of three boys - always adventurous - fun loving - out-going - athletic - our Marine - and the principal flute and piccolo player for the Quantico Marine Band.
Ryan had been on liberty to visit his grandparents for an extended weekend in Michigan and was returning home on his motorcycle to the base in Quantico, VA. He had a high energy impact with a car, t-boning it and sending the car into a 180-degree spin.

When we arrived at the hospital in Dayton, OH, the rest of our young adult children were already there waiting. Our oldest son, Kyle, led us to the room where Ryan was. It was dark and cold, and he lay still. After meeting the medical personnel and learning about the various machines connected to our son, we gathered our children in the waiting room, formed a circle and began to pray. All we could do was pray. But we knew that by praying, we were talking to only Person who could help us. One by one, each of us prayed--deep, heartfelt prayers. Christian, our middle son, cried as he prayed, Oh Dear God, please . . . please give him another chance!
Ryan's very life lay in the balance throughout those initial days. By the sixth day, his brain pressures continued to spike to dangerously high levels, and it was becoming harder and harder to control them. We made the decision to have him placed in a medically induced coma. It was our last option.

But it worked! Ryan's brain pressures came down and showed a pattern of staying down enough to discontinue the coma medication after only one day. Gradually, over a period of days, Ryan began to emerge from his coma and sedation. We began to talk with him! I told my husband, Ed, that I felt like one of the women from the Bible whose dead loved one was raised to life again! Ed said, it reminded him of Ezekiel and the valley of dry bones, as if God was bringing Ryan back--not instantly, but piece by piece. We just waited patiently for the hand of our Almighty God.
There was much suffering in those days, but the Lord himself carried us through it. He carried us through with the support of the prayers of his people, fellow believers, many of whom we didn't even know. We told Ryan there were thousands of believers praying for him.

Once Ryan was stable enough to travel, he was transported by air to the Walter Reed Hospital in Bethesda, MD. Ryan was still not retaining new memories, as a psychologist would later explain to us. So, every day we tried to help him with orientation. In some ways, it was like we were talking to a very young child. After playing a recording of Reveille (after all, Ryan is a Marine!), his dad would say, "Good Morning, Ryan! Today is Thursday, Nov 17th. Do you know where you are?" (Ryan would shake his head slowly, no.) "You're at the Walter Reed Hospital in MD. That's where they took care of Ronald Reagan when he was shot. It's a sunny day, today!" Then Ed would open his laptop computer, display The Bible's BIG Story PowerPoint presentation, and begin his morning Bible time with Ryan. "Ryan, do you see this man in this picture?" (Ryan would shake his head slowly, yes.) Ryan do you know who he is? (Slowly, no.) "His name is Abraham." (Yes) "Do you see this boy on the altar?" (Again, yes) "Do you know his name?" (No) "His name is Isaac . . .." And so it went for days.
After a couple of weeks at Walter Reed, we were told that Ryan was ready for therapies. So, Ryan would be transported to the Hunter Holmes McGuire VA Medical Center in Richmond, Virginia, where he'd be in the Polytrauma Rehab Unit. At that time, Ryan, could sit up in a special chair for 20 minutes and catch and throw a ball with his left hand. (The part of his brain that controlled the right side of his body had been severely injured, so he was still not able to move his right side.)

Ed's morning Bible time with Ryan continued. Story after story, Ed unfolded God's great story of hope, as if it was all new to Ryan. Then, the influence of the gospel began to expand. Because the Polytrauma Rehab Unit encouraged interaction of family with the patients, they always offered us a guest meal tray in their special dining area during each of the meals. Ed used that time at breakfast as an opportunity to share God's story of hope with some of the other patients while he waited for the nurses to finish preparing Ryan for the day.
Ryan continued to make amazing improvements. We began to hear the term, "miracle," again and again. In the middle of March, he was ready for PTRP, the VA's Polytrauma Rehabilitation Program, housed in a small building on the same campus as the hospital in Richmond. By this time, Ryan was walking on his own, talking (though with a very raspy voice), had just passed his swallow test so he could eat and drink, and his consciousness had returned to that of the young man we always knew as Ryan.

Once at PTRP, Ed challenged Ryan to start a Bible study with the other young service men who were rehabilitating, some from combat and some from accidents. He encouraged Ryan to lead them through the evangelistic Bible study workbook, The Story of Hope. Ryan accepted the challenge and has been leading a Bible Study twice a week, despite his physical exhaustion at the end of every day. The Lord has been blessing! One young man who had been shot in the chest at short range told Ryan, "You know, I never really believed in God, but since my accident, I do now believe. I want to learn more. Would it be okay if I came to your Bible study?"
The group that meets with Ryan has changed over time, as patients have come and gone from the facility, but Ryan has continued to spread the gospel through The Story of Hope where he continues to be treated at PTRP. - Leslie Schick (Ryan's Mom)

---
The Story of Hope is an evangelistic Bible study workbook designed to help people who are open to dialogue at the investigative questions and core beliefs levels. And the FREE downloadable Leader's Guide for The Story of Hope will guide you in the process of knowing how to evangelize unbelievers based upon a chronological Bible study of God's overall redemptive story.