Lea's Story and The Story of Hope | Part 1
"Lea, how long have you been attending our church?" missionary Steve Deal asked. "Since Lesson 7," came the reply from this young mother of a three-year-old girl. She was referring to "The Story of Hope" lessons which Mitch has been teaching.
Mitch had trusted Christ as a young girl, but last year she received the Good Soil Evangelism & Discipleship Training. Now she loves to share her faith beginning in Genesis. Mitch is always bringing her coworkers to church. One of her coworkers, Lea, has been attending faithfully for months—apparently since 'lesson seven!' How we rejoiced with Lea when she recently acknowledged her faith in Jesus Christ as her Lord and Savior! Mitch, Lea's spiritual mentor, sees this as an answer to prayer.
Unfortunately, Lea spent her last Sunday Lea in church with Mitch.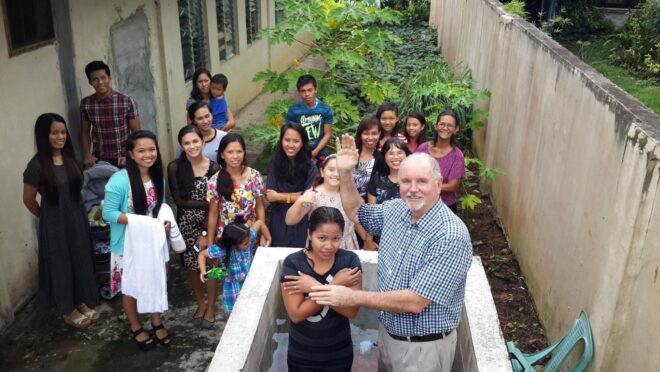 Lea had to leave her job and move back home several hours away to be with her husband and 3 year old daughter. Sadly, it is quite common in the Philippines for spouses to live and work away from home to support family. However, Lea said she learned many truths in the Bible during her studies with Mitch in The Story of Hope, helping her to understand clearly GOD's plan of salvation.
Although Lea had to leave, she was excited to share her new faith with her husband and mother. The morning she left, she said, "I hope I find a church just like this back home." Steve and Ahmie gave Lea a Bible and The Way To Joy (the discipleship partner book to, The Story of Hope). As she grows in the Lord she will be able to help others come to CHRIST. She already has the burden to reach her family with the truths in GOD's Word. Mitch and I will keep in touch to aid her in her spiritual growth. Lea also mentioned she wants to return soon to follow the LORD in baptism.
Lea returned to her home province and gathered a group of children, youth and some adults. Then she invited us to come and share the Story of Hope with her friends, similar to how the woman at the well rushed to town to tell her friends when she met Jesus. We sent Mitch and some others on a "mission trip" where they helped Lea introduce her friends to The Story of Hope. Pray for Lea—two months old in Christ—as she continues to teach TSOH to the group each Sunday in her home.
Read how the Lord has continued working in and through Lea: